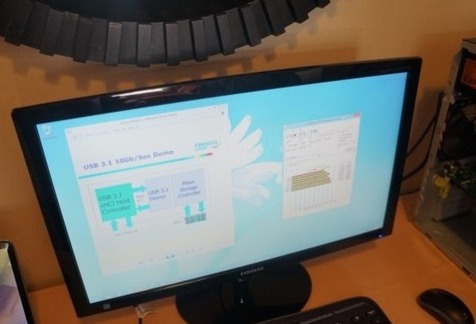 The transmission speed of USB3.0 has been greatly improved, but this is definitely not their ultimate goal. Recently, USB 3.1 has been unveiled in an actual display, the transmission rate has reached 10Gb / s, doubled than USB3.0, it seems that the lightning interface known as the speed of this encounter a strong competitor.
In the demonstration, the engineer connected a USB-based USB 3.1 prototype controller board developed and produced by Fresco Logic Corporation to the DDR memory and tested that the transmission rate reached 900 MB/s. Jeff Ravencraft, chairman and chief operating officer of the USB Implementers Forum (USB-IF), said with pride: "The USB 3.0 release has only 5Gb/s, which means it can reach 450MB/s. The transmission rate of s, 8 weeks later our USB 3.1 has substantially doubled the transmission rate to 10 Gb/s."
In fact, as early as this year's International Consumer Electronics Show (CES), Raven Kraft talked about, USB 3.0 speed data transfer rate there is room for improvement, the USB 3.1 version will be released from the current rate of 5Gb/ s soared to 10Gb/s. Ravenkraft's prophecy has now been verified.
Ravenkraft also said that after adjustment and optimization, USB 3.1 can also achieve a transmission rate of 1.2GB/s, and can easily transmit uncompressed 4K video data. He also revealed that the official version of USB 3.1 will be available during the summer vacation next year.
The USB 3.1 transmission speed has greatly improved and is a threat to Intel Thunderbolt. Although it has been known for its fast speed, the price of the lightning interface is much higher than that of the USB. If the USB speed is greatly increased, the speed advantage of the lightning interface will not be.
Market research firm MRG also believes that "In addition to the expensive chip, the lightning transmission line is also very expensive, and the price per line is still as high as 30 US dollars. This hits consumers to buy enthusiasm for external hard drive with lightning, compared to the price of USB 3.0. The advantages are obvious." At the same time, they predict that the number of personal ultra-fast USB products that pass USB 3.0 certification or not have USB 3.0 certification in 2013 will reach 700 million, and in 2016 it will further soar to 2.2 billion.
LED wall packs & wall pack lighting saves on operation cost compared to metal halide fixtures. Led Wall Pack is a compact and lightweight outdoor fixture designed for parking lots, walkways and doorway.Led Wall Lamp features a classic design, so you don't have to update your look by swithing to energy saving LED technology.Wall Pack Light Fixture is designed for outdoor wall mounted lightingapplications requiring white uniform light, long life and low maintenance.LED wall pack fixtures are with cutoff and full glass styles. LED wall pack lights are used for energy efficient commercial lighting,they will light up your business's outdoor area the way you want.

Led Wall Pack,Solar Wall Lights,Led Wall Lamp,Wall Pack Light Fixture
Shenzhen Bbier Lighting Co., Ltd , https://www.chinabbier.com