Texas Instruments (TI) today announced the industry's first 8-channel Pulse Width Modulator (PWM) audio processor with integrated dual-channel asynchronous sample rate converter (ASRC) on a single chip. The HD-compliant TAS5548 helps home and professional audio designers seamlessly integrate two audio sources, increasing design flexibility and reducing costs compared to competing solutions that require two chips. The device supports sample rates from 8 to 192 kHz and can be converted to a fixed rate of 96 kHz or 192 kHz without the need to create, store, and modify coefficients. This simplifies the design of digital multi-channel products such as integrated Blu-ray Home Theater (HTiB), audio and video receivers, mini/mini combo devices and sound bars.
This article refers to the address: http://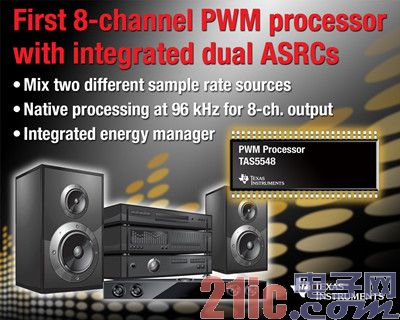 The TAS5548's 40kHz audio bandwidth is not only compliant with the Dolby® True HD and DTS-HD standards, but also delivers unparalleled multi-channel performance. Designers can optimize products with rich audio processing capabilities such as 7-band parametric equalization (EQ), high and low bass control, volume and loudness control, dynamic range compression (DRC), and input-output mixing.
Key features and benefits of the TAS5548
· Simplified multi-channel design: Two integrated 4-channel ASRC cores help audio system designers switch sampling rates without modifying the coefficients;
· Excellent noise performance: 96-kHz native processing capability for 8-channel outputs supports ultra-low out-of-band noise and jitter suppression;
· Design flexibility: Additional microphones and I2S inputs help the ASRC mix two different sample rate sources for a high degree of flexibility to interface a microphone with up to 8 karaoke tracks;
· High-efficiency power supply design: The integrated smart energy manager increases productivity and limits the audio system peak power by interrupting the host processor when the power threshold is reached. For high-end audio systems, power supply control enables high-efficiency, high-power performance;
Complete audio solution: highly integrated ultra low power MSP430TM Value Line microcontroller, PCM9211 digital audio interface transceiver with stereo analog-to-digital converter (ADC) and TAS5624A and TAS5614LA 150W stereo/300W mono PurePathTM HD digital input power stage device. Customers can create high-performance audio systems faster with this complete audio system solution.
Tools and support
Available now, the TAS5548EVM is available in the easy-to-use ControlConsole Graphics Development Kit to simplify the evaluation, configuration, and debugging of audio products. ControlConsole's graphical user interface (GUI) supports rapid evaluation of all TAS5548 features, including DRC, programmable EQ, and energy management.
The audio forums of the TI E2ETM community provide engineers with powerful technical support where they can ask TI experts questions.
Availability
The TAS5548 is available now in a 56-pin TSSOP package.
The High Power Battery Pack is mainly used in various vehicles, ships, aircraft and other internal combustion engines, lighting, energy storage, uninterrupted power supply, mobile communication, portable electric tools, electric toys.there are some differences compared with other normal battery .
1.properties
High power Lithium Battery is a battery that powers a vehicle, usually compared to a small battery that powers a portable electronic device. And normal lithium battery is a kind of anode materials for lithium metal or lithium alloy, using nonaqueous electrolyte solution of a battery, and Rechargeable Battery lithium ion battery and lithium ion polymer battery is not the same
2.discharge power
a 4200 mah high power lithium battery can discharge all power in just a few minutes, but normal lithium battery could not do that completely, so normal lithium battery discharge ability cannot be compared with the high power lithium batteries entirely. The biggest difference between high power lithium battery and onormal lithium battery lies in its high discharge power and higher energy. Since high power lithium-ion batteries are mainly used for automotive energy supply, they have higher discharge power than ordinary batteries.

3.High Power Battery pack can discharge at higher instantaneous current than normal Lithium Battery Pack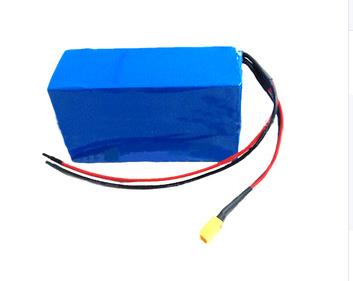 High Power Battery Pack
High Power Battery Pack,High Power Battery,Battery Pack,Lithium Polymer Battery
YFJ TECHNOLOGY (HK) CO.,LIMITED , http://www.yfjpower.com