Illumination Time:
10-12h
Certification:
CE, RoHS, IP65, LVD, IEC
With Light Source:
Without Light Source
Backup Time:
Over 12hours Per Night, 3-5rainy Days
Install Height:
10-12 Meters
Package Size:
1530*130*520mm(Body)/710*420*310mm(Button)
Key Words:
Street Light, Solar Street Light
Transport Package:
Carton
Specification:
1469*420*395mm
High Bright All-In-One/Integrated Solar Products LED Lamp Street Light
(5W/8W/9W/10W/12W/15W/18W/20W/30W/40W/50W/60/80W/100W/120W)
 
Advantages:Â Â (Mobile: +86 13049458169)Â Â Â Â Â Â Â Â Â Â Â Â Â Â Â Â Â Â Â Â Â Â Â Â Â Â Â Â Â Â Â Â Â Â Â Â Â Â Â Â Â Â Â Â Â Â Â Â Â Â Â Â Â Â Â Â Â Â Â Â Â Â Â Â Â Â Â Â Â Â Â Â 
1. Integrated All-in-one 100% solar energy powered Solar Street LED Light.
2. Integrates the green-energy parts:
    1) Mono solar panel with high efficiency 
    2) Bridgelux/ Epistar LED chips
    3) LiFePO4 (lithium iron phosphate) battery 
    4) Intelligent controller system
    5) PIR Motion Sensor/ Microwave Sensor, etc.Into one aluminum alloy housing
3. Long life-span, high-luminance, energy saving and maintenance free.
4. Easy to install and no cable needed.
5. This lamp is brighter than normal sodium lights, 1W LED chip brightness as 5W of normal sodium lights.
6. It's convenient for transportation and high safety.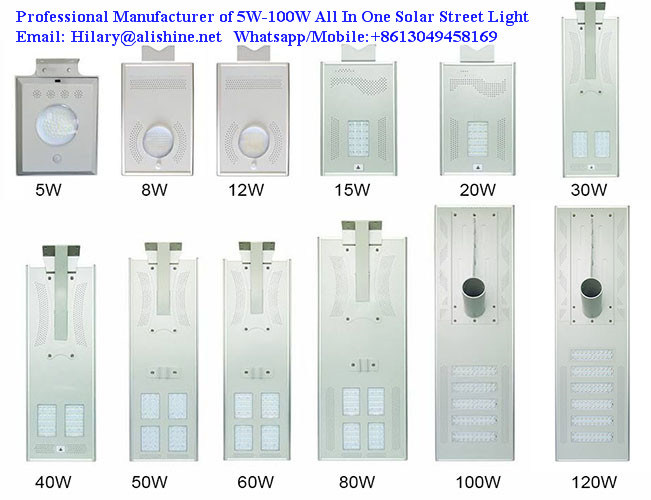 Specifications:Â Â (Mobile: +86 13049458169)Â Â Â Â Â Â Â Â Â Â Â Â Â Â Â Â Â Â Â Â Â Â Â Â Â Â Â Â Â Â Â Â Â Â Â Â Â Â Â Â Â Â Â Â Â Â Â Â Â Â Â Â Â Â Â Â Â Â Â Â Â Â Â Â Â Â Â Â Â 
High Bright All-In-One/Integrated Solar Products LED Lamp Street Light
1. LED light, solar panel, lithium battery and controller,all in one compact design.
2. No wiring,100% solar powered ,easy to install and ship.
3. Built-in infrared sensor,can adjust the light output automatically.
4. Rust-proof, dustproof and waterproof.
5. 3Â years warranty.
| | | | |
| --- | --- | --- | --- |
| Model: | SQ-100(Without Sensor) | CRI | >70Ra |
| Solar panel Max power: | 18V 130WÂ Â (high efficiency monocrtystalline silicon) | Sensor distance | / |
| Solar panel Life time: | 25 years | Main material of lamp: | Aluminium alloy |
| Battery Type: | lithium battery 12V 60AH | Certificate: | CE /Â ROHS /Â IP65 |
| LED Max power: | 12.V 120W | Warranty period: | 3 years |
| Led chip brand: | Bridgelux from USA with high brightness | Mounting height(m): | 10-12m |
| Lumen (LM): | 110-120lm/w | Mounting distance(m): | 30-35m |
| LED Life time: | 50000hours | Inner box: | / |
| Lighting Viewing Angle: | 65°x 120°(bar wing street light distribution ) | N.W./set | 28.KG |
| Charge time(from the sun): | 6-7hours (with enough strong shine) | Unit size | 1469*420*395mm |



Application:Â Â (Mobile: +86 13049458169)Â Â Â Â Â Â Â Â Â Â Â Â Â Â Â Â Â Â Â Â Â Â Â Â Â Â Â Â Â Â Â Â Â Â Â Â Â Â Â Â Â Â Â Â Â Â Â Â Â Â Â Â Â Â Â Â Â Â Â Â Â Â Â Â Â Â Â Â Â Â Â Â Â Â 
High Bright All-In-One/Integrated Solar Products LED Lamp Street Light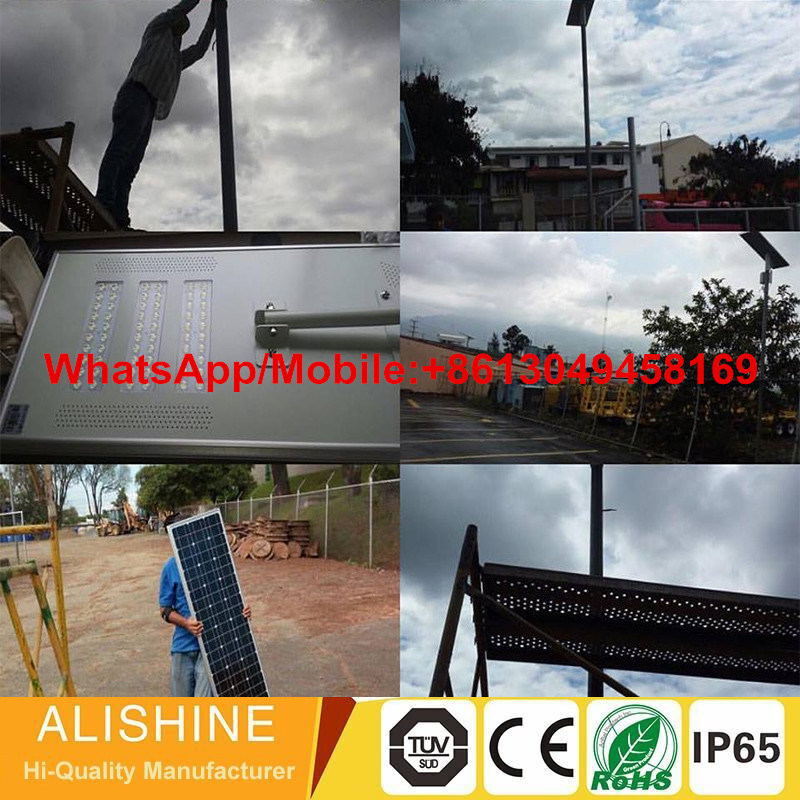 Our Company: (Mobile: +86 13049458169)Â Â Â Â Â Â Â Â Â Â Â Â Â Â Â Â Â Â Â Â Â Â Â Â Â Â Â Â Â Â Â Â Â Â Â Â Â Â Â Â Â Â Â Â Â Â Â Â Â Â Â Â Â Â Â Â Â Â Â Â Â Â Â Â Â Â Â Â Â Â Â Â Â Â Â Â Â Â Â Â Â Â Â Â Â Â Â Â Â Â Â Â Â Â Â Â Â Â Â 
Shenzhen Alishine Energy Technology Co., Ltd was Established in 2016, in one group with Shangqi  company established in 2004, our factory is located in ShenZhen, China, with convenient transportation access, Covering an area of 4000 square meters, we now have over 94 employees, our company own professional R&D team and sales team, Our well-equipped facilities and excellent quality control throughout all stages of production enable us to guarantee all customer satisfaction.

Our main products are integrated solar street lights, solar garden lights, all in one solar street lights, solar yard/apple/peach lights, semi-separate solar street lights, etc.
All of our solar lights have approved CE ROHS IP65 LVD IEC EMC and IES Certificates. Our products have been sold over 60 countries and our company brand--"Alishine" awarded a lots of reputation.

If you are interested in any of our products or would like to make your import business more easily, please feel free to contact us by Mobile:+86 13049458169. We are looking forward to forming successful business relationships with new clients around the world in the near future.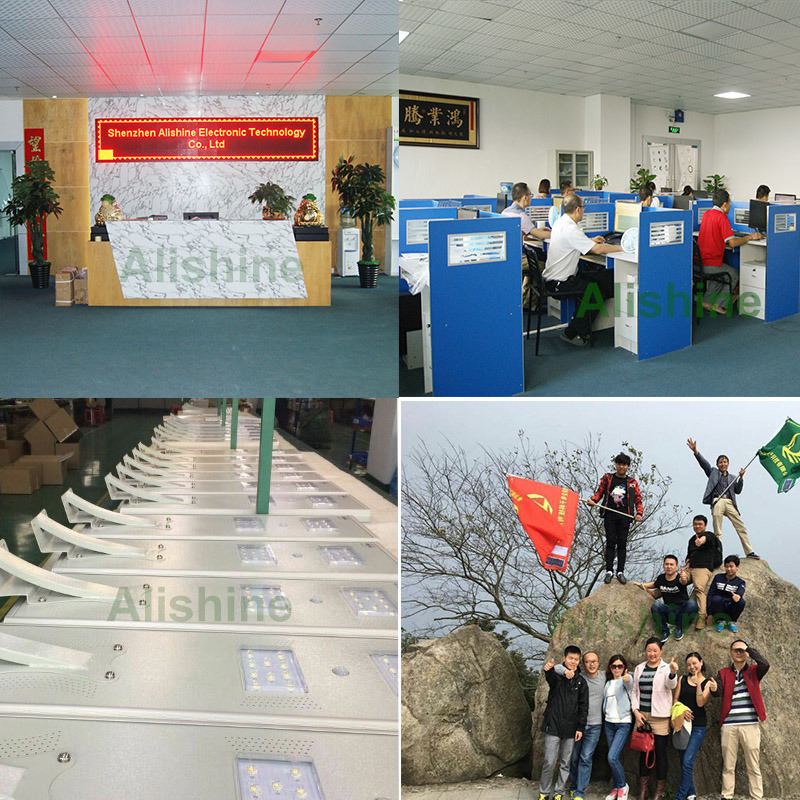 Our service :Â Â Â Â Â Â Â Â Â Â Â Â Â Â Â Â Â Â Â Â Â Â Â Â Â Â Â Â Â Â Â Â Â Â Â Â Â Â Â Â Â Â Â Â Â Â Â Â Â Â Â Â Â Â Â Â Â Â Â Â Â Â Â Â Â Â Â Â Â Â Â Â Â Â Â Â Â Â Â Â Â Â Â Â Â Â Â Â Â Â Â Â Â Â Â Â Â Â Â Â Â Â Â Â Â Â Â Â Â Â Â Â Â Â Â Â Â Â Â Â Â Â Â Â Â Â Â Â Â Â Â Â Â Â Â Â Â Â Â Â Â Â Â Â Â Â Â Â Â Â Â Â Â Â 
1. Reply your enquiry in 24 working hours.
2. Well-trained and passional sales &Â after- sale services,we can do everything to meet your needs.
3. Customized design is available.
4. Shipping port: Shenzhen,China mainland.
5. SAMPLES are prepared.Discouts are offered based on order quantities.
6. MOQ: 1pcs.

Why choose us - ALISHINE ?                                                                                                                           
1. About 13 years specializing in solar lighting system.
2. Complete supplying system with full range of integrated solar street lights,all in one solar led street/garden light,solar
yard/moon/apple/peach,etc.
3. Strict process and quality control.
4. Good raw materials used in production.
5. Strong design and production capability.

Contact Us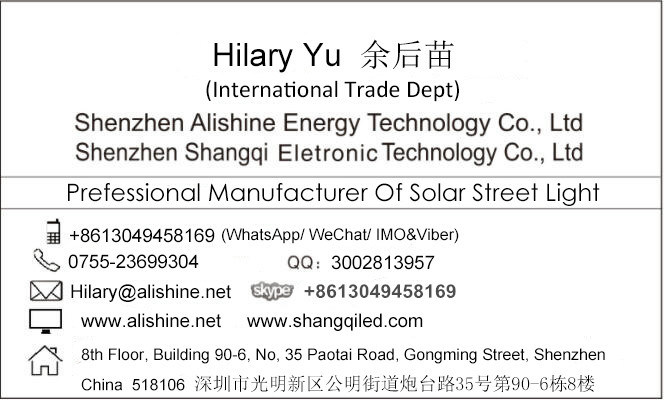 Huawei 4G WIFI Modem,WIFi Repeater,WIFI Adaptor
Fuzhixing Electronics Co., Ltd. , http://www.gdsignalbooster.com